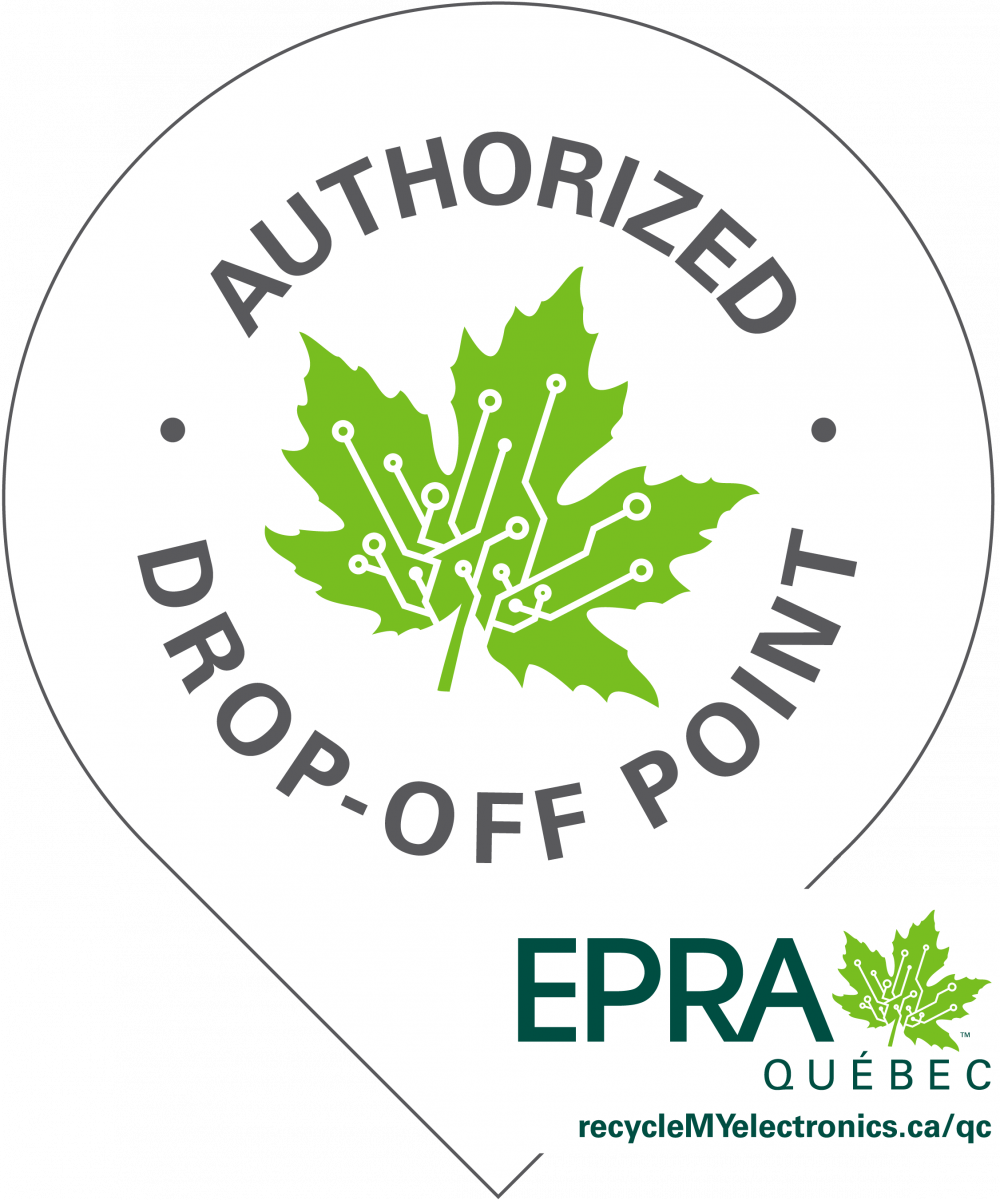 CRE de Laval is an official EPRA-Québec drop-off point for the Recycle My ElectronicsTM program. Citizens and businesses can bring their old and broken electronics, therefore preventing them from ending in landfills, allowing them to be recycled and disposed of safely and responsibly.
In 2019, a total of 206 Laval citizens used the drop-off point, which is a substantial increase of ridership of about 28,5% in comparison to 2018 (160 users). Thus our drop-off point diverted 4 080,97 kilograms of electronics from landfills.
About the drop-off point...
Where?
Bring your electronics at:
Conseil régional de l'environnement de Laval
3235 St. Martin Est boulevard, offices 208-209
Phone : 450-664-3503
*To make your experience easier, call us before arriving and we will gladly help you out!
When?
Monday to Friday, 8:00 am to 12:00 pm and 1:00 pm to 4:30 pm.
Saturday and Sunday: CLOSED
What to bring?
Here is a list of accepted items at our drop-off (this list is mostly for end-of-life products. If your electronic device or appliance is still working, please donate it to a thrift shop or publish it on an online resale platform such as Kijiji or Marketplace):
Laptops;

Computers;

Computer peripherals and game consoles;

Televisions and screens;

Printers, scanners, fax machines;

Display devices;

Pagers and cell phones;

Phones and answering machines;

Audio and sound systems (personnal, portable, non-portable, for cars, etc);

Home theaters.
For more information, you can check the EPRA-Québec list here

What NOT to bring?
Small home appliances (microwaves, mixers, toaster ovens, vacuums, etc);

Electric tools (drill, circular saw, blasting units, etc);

Refrigerators, air conditioning devices, freezers, etc;

CDs, DVDs, Blu-Rays, diskettes, video tapes;

Smoke detectors;

Lamps and pocket lamps;

Light bulbs or neon lights.
If you remain uncertain, give us a call and we will sort out what to bring and where!
What happens next?
EPRA-Québec collects all these broken electronic devices and can recycle them in order to protect the environment but also the workers that handle them.
With EPRA-Québec, you are certified that:
Items do not end up in landfills;

Your devices will not be illegally exported by neglecting collectors;

Will be sent to businesses approved by the Bureau de la qualification des recycleurs and meet the Canadian recycling standards;

Will be recycled safely and ecologically.
These precious resources won't go to waste and will be incorporated once more into the production chain.