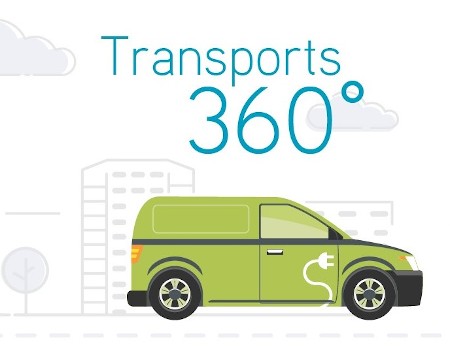 Transports 360°... what is it, exactly?
Transports 360° Laval is the first large scale initiative to help local businesses switch to more sustainable transportation methods. We focus on alternative mobility and the use of electric vehicles.
This is a turnkey service to guide businesses and organisations of all kinds in order for them to let go of oil-based transportation and transition to electric vehicles. This service aims to help you at a reasonable cost while focusing on your reality and respecting your needs. If you have ever thought of ways to change your transportation methods for less polluting options like hybrid or electric cars, or if your fleet of vehicles is at the end of its life cycle , now is a great time to consider signing up for Transports 360!
« With such a personalized guiding, we were able to optimize our deliveries and reduce travelled kilometers while switching to an electric car for our two drugstores. Our clients can use the terminal, our image is enhanced and our transportation costs have dropped. These positive changes are healthy for the planet and for us! » – H. Flamand, owner (free translation from original quote).
Green and cheap driving!
Hybrid or 100% electric?
Our team can guide you through all the brands, models and types of electric or hybrid cars to best suit your needs and budget. We will also consider your travelling habits. Our goal is to ease your decision making process by handing out all the relevant information for you.
Five steps to a FUNDED turnkey service!
Step 1 : Register in just 3 minutes (*recruiting phase is now over*)
Once you register and answer our short survey, we will contact you to discuss our services in detail and assess your needs.
Step 2 : Assess your true needs
Analyzing of all our travelling habits (corporate, clients, employees, etc) ;

Travelling cost estimates in the present and estimated costs of alternatives ;

Financial saving and carbon footprint reduction calculations.
Step 3 : Proposing car brands, terminals and even electricians!
Choosing of the perfect car suitable to your needs (cost, size, battery back-up) ;

Submission requests to local car dealers ;

Buying group organisation to access group deals ;

Submission requests to certified electricians to have your charging station installed at the best price.
Step 4 : Sending of governmental funding application - up to 15 000$
We will search and send governmental funding applications for up to 15 000$ when buying an electric car and charging station.

Maximise the available funding and follow-up of applications.
Step 5 : Enjoy all the benefits of this service!
Communication package to value your carbon footprint reduction initiatives ;

Sharing of all the Transports 360° partners' initiatives to tackle greenhouse gas emissions on social media ;

Enjoy the lowering of your transportation costs!
For more information :
credelaval@credelaval.qc.ca – 450 664-3503
info@maillon-vert.com – 514 606-8814
Project promoters
Partners
Funding partner