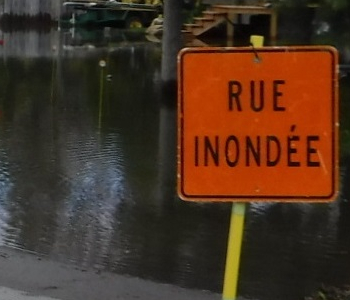 Human activity, mostly fossil fuel use and cattle raising, increases concentrations of greenhouse gases in the atmosphere which globally affects the climate. Climate change is no longer a future threat, it is occurring now and governments, industries, municipalities and citizens must act and adapt to this new reality that poses multiple challenges for the health and security of populations.
We also must remember that land use planning also has a direct impact on increasing greenhouse gas (GHG) emissions. The increasement of GHG emissions constitutes one of the main causes of climate change - and we are bound to suffer its consequences in the years to come. Laval will be no exception.
It is imperative to take a second look at our land planning requirements, especially those that have the potential to reduce transport-related emissions. This activity sector is, by far, the most significant amongst all factors that are responsible for human-induced GHG emissions in Laval, Montreal Metropolitan Community and Quebec's territories. This land use planning reflection process must take into account a quite recent Laval-based and society-oriented issue : climate change.
Crucial decisions will need to be taken in the years to come in order to optimize the land use planning of our territories to make them less dependent of fossil fuels, more « carbon neutral », but also more resilient to the effects of climate change. Development of circular economy, vehicle and building electrification, urban densification, land use planning and conservation of green spaces, development of short channels of mobility, increase of public transit and active transportation ; these are a few of the topics that will guide reflection processes initiated by the City of Laval, the Metropolitan community of Montreal, and Quebec & Canada's governments.
Adaptation to climate change represents one of the greatest challenges that human kind ever had to face, considering the significant democratic, economic and technological costs, but it is also a society project that embodies hope for a more equitable international community - one that will respect more the supporting capacity of all ecosystems.
Fighting and adapting
What is climate change adaptation? According to the Intergovernmental Panel on Climate Change (IPCC), it is a adjustment process to present or expected climate as well as to its effects. In human systems, adaptation seeks to moderate or avoid nuisance, or to exploit beneficial opportunities. In some natural systems, human intervention may facilitate adjustment to expected climate and its effects (IPCC, 2014).

Publications (in French)
IPCC Press release (2019) : Choices made now are critical for the future of our ocean an cryosphere
IPCC Special Report (2019) on the consequences of 1,5°C global warming
Adaptation on many levels
City of Laval's Bilan 2016-2017-2018 Adaptation aux changements climatiques is now available online (in French).
In this report, extreme weather events and other climatic hazards on Jesus Island are highlighted, as well as probabilities for these phenomenons to become more frequent and intense. There is also an overview of actions taken as of today by City of Laval to adapt to this context.
---
To learn more about climate projections throughout the province of Quebec, you may take a look at scientific expertise on non-profit organization Ouranos's website.
---
The Government of Canada has developed an online interactive platform where one may explore present and expected effects of climate change on a wide array of environmental parameters of hundreds of Canadian countries.
On this page, you will also find maps and graphs that gather data regarding, for example, the quantity of tropical nights or coldest minimal temperatures; all of which is presented on different time intervals (past, present and future).