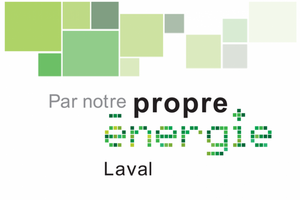 Background of the Par Notre PROPRE Énergie initiative
The late 2000s were memorable for the soaring prices of oil. The public outcry was enormous and brought together the Regroupement national des conseils régionaux de l'environnement du Québec and the Ministry of Environment and Fight Against Climate Change in order to reduce the collectivity's oil dependence.
The movement began in 2009 with the Rendez-vous de l'énergie, followed by the Forum Québécois sur l'énergie in 2011. These events led to the launching of the program Par notre PROPRE énergie (PNPÉ), which was managed by all sixteen regional environmental councils, each representing an administrative region, except the Nord-du-Québec. This initiative aimed to help Quebec's regional stakeholders, including some from Laval, transform their awareness on oil and energetic issues into concrete actions. The contribution of the Quebec government through the 2013-2020 climate change action plan makes this approach possible and successful.
In 2012, PNPE generated an overview of the energy uses in Laval. This was a crucial tool to understand local oil consumption patterns.
A concertation table was then launched in 2014 to enable socio-economic stakeholders of Laval to collaborate and develop an action plan to reduce oil consumption while considering the realities and needs of Laval.
CRE de Laval generated another energy portrait of Laval in 2015 (French-written) and coordinated a concertation table with various stakeholders. The work of this table led to an action plan highlighting actions to be taken to reduce our local oil dependency. A final report describing the entire approach of PNPE was given to the RNCREQ and the Quebec government in February 2015.
Two years after this final report, the Quebec government financed the PNPE project for three more years. The comeback context wass somewhat different; oil prices were fairly low and stable but, extreme weather events were more common and intense. PNPE projects therefore shifted to address today's problems. PNPE created initiatives to fight greenhouse gas emissions and implement adaptations to climate change. Work from the earlier phases of PNPE project remained extremely relevant for today's approach.
Greenhouse gas reduction and climate change adaptation concertation table
This new concertation table gathered ten organization and local institutional representatives. It aimed to find ways to significantly reduce greenhouse gas emissions and mitigate the impacts of climate change through adaptation. The concrete objectives were as follows:
General objective: Feed the reflection, dialog and regional mobilization around climate change;
Specific objective: Develop and implement a regional project to reduce greenhouse gas emissions.
Laval forum on sustainable mobility: solutions, obstacles and incentives
Through the many meetings of the concertation table, it was obvious that the best way to reduce greenhouse gas emissions was to target the greatest emitter - road transportation. To fuel this work, CRE de Laval collaborated with the Chambre de commerce et d'indusrie de Laval to hold a transportation themed regional forum called Forum lavallois sur la mobilité durable: solutions, freins et incitatifs, which occurred on March 23rd at the Château Royal in Laval.
RNCREQ's economic study
Through the PNPE approach, the RNCREQ announced the results of an economic study done by Renaud Gignac (French-written), a consulting economist. He stated that Quebec's economic spinoffs would be in the order of twenty billion dollars within 6 years, given the proper reduction of oil consumption in the province.
Salient facts
Benefits of trade balance
The study shows that a moderate reduction of oil consumption would lead to benefits on trade balance of up to 2,3 G$ in 2015, with a progressive increasing up to 4,3 G$ in 2020. In six years, these benefits would add up to 19,7 G$.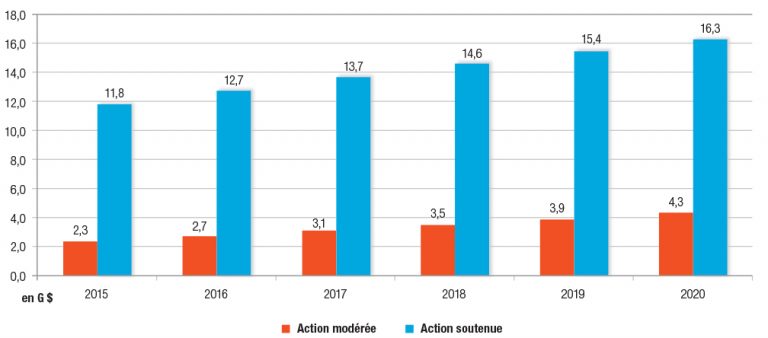 GDP and employment
The moderated scenario is predicted to generate 130 000 jobs yearly, direct and indirect over the same period and spread out through different lines of business. They could significantly improve regional development.

Quebec government earnings
Even when considering the drop of earnings from the fuel taxes, the moderate approach would lead to extra earnings of 900 M$ within 2015-2020.
Household benefits
Choosing fuel efficient vehicles allows households to save between $2100 and $4300 every year. This is comparable to almost twice the current leisure budget. Other fuel saving options such as choosing a home location that does not require a second or third vehicle, choosing active or collective commuting methods or carpooling, all enable even bigger savings for households.

Publications (in French)
2015. Plan d'action régional 2015-2020, 24 pages.
2015. Portrait énergétique régional (Document revised in 2015), 86 pages.
2014. Les retombées économiques d'une réduction de la consommation de pétrole au Québec (a study by the RNCREQ), 50 pages.
Main financial partners