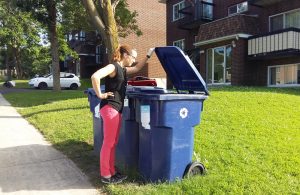 In 2017, an awareness raising campaign for multi-housing landlords and tenants was launched by the City of Laval, which mandated CRE de Laval to contact these people by phone and in person through door to door sessions. This campaign informed residents about the importance to maintain a good quality in their recycling bin to maximize the efficiency of the sorting and in the end, have a larger quantity of items not sent into landfills.
CRE de Laval started by contacting landlords on the phone to inform them about good recycling practices. In all theses housing units, there has to be a designated and sufficient space for the blue bins so that all tenants have access to them and can recycle properly their paper, cardboard, plastic, glass and metal.
Afterwards, the CRE de Laval team proceeded to field inspections, visited housing units and monitored the content of the blue bins. The team was able to inform tenants about the recyclability of certain items which turned out to be quite useful. Residents were also introduced to a new web-based tool to find out where to dispose of items that can't be recycled but should not end up in landfills.
You should note that Pages vertes de Laval (in French) is an app that enables you to find a drop-off point for items such as electronics, dangerous domestic waste, clothes, building materials, etc - all close to home.