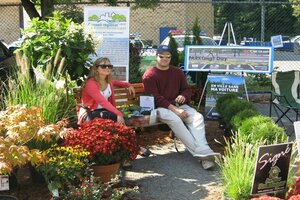 Why bother about parking?
According to Laval's parking policy, which came into effect in 2019, there were at that time no less than three parking spaces (on the streets or not) for each vehicle - and that is without taking into account private entrances. There are more than 500,000 parking spaces on Jesus Island, an astounding number considering that in average, whatever time it is in the day, 80% of them are vacant! Moreover, 90% of parking spaces didn't have any forest cover.
In Laval, just like in other large cities, car use is the main focal point of land use planning. In the last few years, many problems have emerged due to this extensive use of cars and the growing proportion of public spaces dedicated to parking.
Such problems include greenhouse gas emissions, parking related costs, social and environmental impacts of disproportionate public space sharing between pedestrians, cyclists and vehicles, urban heat islands, runoff, lack of space for urban trees and the lack of opportunities for collective and active transport.
In order to bring awareness in light of this issue, CRE de Laval held two editions of PARK(ing) Day in 2013 and 2014 ; the goal of this event was to monopolize parking spaces so that they would be repurposed into greener and more enjoyable public spaces for the day. Many partners joined the event throughout Jesus Island, making it a great success that led a few years later to a public consultation regarding parking spaces management in Laval.
In 2019, Laval's parking policy was adopted ; its implantation is scheduled to be completed in the year of 2021. It includes four guidelines for the planning of parking spaces on Laval's territory :
Improve parking management and facilitate street maintenance ;

Optimize land use and promote the diversity of uses ;

Encourage the deployment and adoption of alternative means of transport ;

Reduce heat island effect with sustainable planning.
Have a look at Laval' parking policy here (in French).
Laval PARK(ing) Days
CRE de Laval organized PARK(ing) Day's 2013 and 2014 editions! Everywhere in Laval, partners claimed parking spaces to transform them into lively and fun areas, in order to inspire an ideal vision in which all kinds of land uses can coexist instead of solely favouring cars.
The goal of this initiative was not to blame car drivers. Instead we demonstrated how we could respond to our communities' mobility needs by reducing parking spaces. PARK(ing) Day encouraged a collective change while raising awareness on the value of public space literally used to store stationary cars. Alternatives exist and go along with active transport and healthy living habits but also by increasing the access to such options and improving safety.
What is PARK(ing) Day?
The PARK(ing) Day yearly event takes place in hundreds of cities worldwide. It was initiated in 2005 by the REBAR group, based in San Francisco. The event aims to gather artists, citizens and organizations and allow them to temporarily transform parking spots into welcoming public areas that will initiate friendly but critical debates on the importance of the space occupied by a parked car.
The objective of this event is to trigger a global reflection on the physical space occupied by car-related activities, encourage people to choose active transportation methods over the single-used cars and raise public awareness on land-use planning issues.
PARK(ing) Day Laval 2014 pictures (on Facebook)