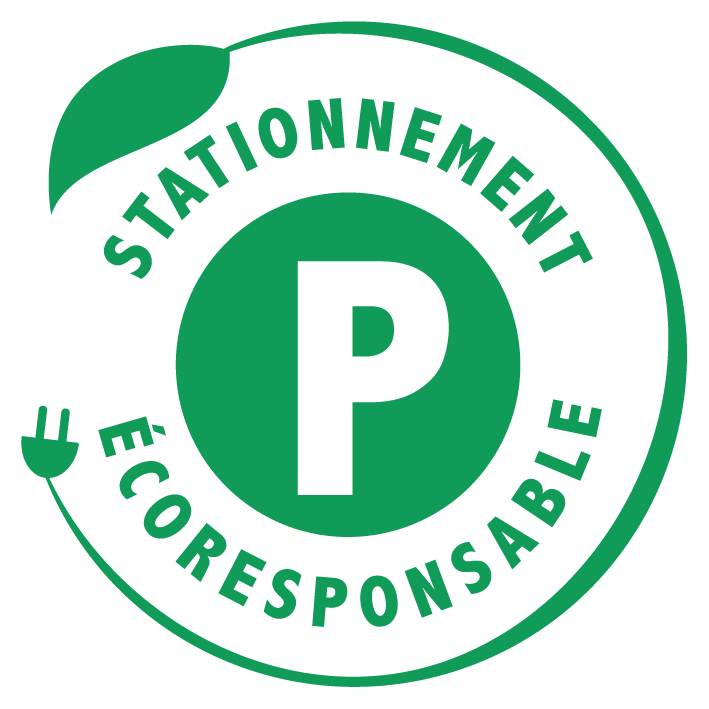 The Eco-Responsible Parking Approach targets owners and managers of parking lots, planning professionals as well as municipal and elected officials who wish to act on the ecological design and innovative management of parkings.
Launched in 2017 by CRE Montréal, four other Conseils régionaux de l'environnement are joining the process: CRE de Laval, CRE Centre-du-Québec, CRE Montérégie and CRE Capitale-Nationale!
The approach addresses two important issues: urban heat islands (UHI) and the place of cars and parking lots in the development of our neighborhoods. Did you know that there are more than 315 parking lots of over 100 parking spaces on Laval territory?
The Eco-Responsible Parking Certificate
The Conseils régionaux de l'environnement offer a variety of tools, including personalized support, to help owners and managers make their parking lots greener and obtain the Eco-Responsible Parking certificate.
The certificate is free and is offered on the basis of the expertise of CRE Montréal and according to the criteria established with a committee of experts. The selection of committee members aims to gather various fields of expertise (greening, water management, mobility, etc.), represent a diversity of backgrounds and actors (private firms, government agencies, NGOs, etc.) and the different realities and regions of Quebec.
You want to renovate your parking lot or you are simply curious to learn more about the process and its benefits? Visit the official website as well as the leaflet.
Events
September 22, 2022 (10:30 - Noon): Launching of a new platform for professionals and municipal officials that work/implement municipal regulations. Online event, free, registration is mandatory.
September 9, 2021: Presentation of CRE Montréal's webinar. The webinar was titled « Inspiring examples of parking lots across Quebec ». This meeting featured four parking projects integrating eco-responsible management and development solutions in different regional and urban contexts.
Missed it? The recording is available here!
May 3, 2021: Launching event. About 160 persons attended this event that announced the launching of the Démarche Stationnement écoresponsable in 4 new regions: Laval, Montérégie, Centre-du-Québec and Capitale-Nationale!
Thanks to the event, people were able to:
Get information about the initiative and tools provided;
Know more about the turnkey service offered by the CRE's;
Discover the actions that have to be taken to carry out an ecoresponsible parking lot project;
Get to know the experts involved in the initiative;
Ask questions.
Did you miss the event? Watch it here!