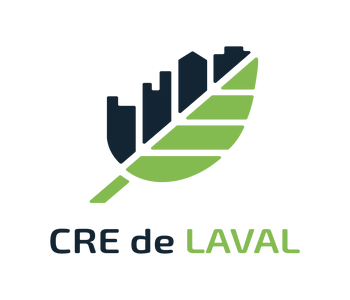 CRE de Laval is getting a makeover with this brand new visual identity.
In February 2021, CRE de Laval was contacted by a teacher from the Graphic design program of University Laval, as she was looking for local non-profit organizations interested in refreshing their identity. We seized this opportunity and are proud to reveal the result!
The concept behind the creation of the logo is a combination of symbols reminding us of a leaf, building silhouettes and a vertical bar graph that indicates a progression. The use of this logo therefore aims to establish a strong link with our field of intervention: the protection of the environment.
The use of rounded corners seeks to soften the geometric shapes and make the logo less rigid and industrial looking. The selected font is lineal, round, clean and modern. It represents well the dynamism of our organization and highlights the solidity, credibility and expertise of the members of our team.