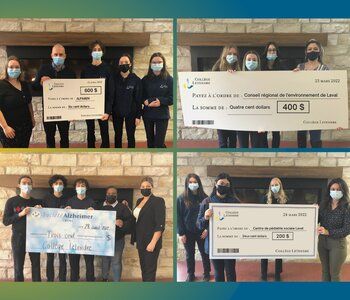 The money received will be directy invested in the pursuit of our organization's mission, including varied activities such as clean-ups in Laval or the Carbone Scol'ERE project.
As part of the contemporary world class, Secondary 5 students of College Letendre had to create a fictional non-governmental organization (NGO)
that aimed to improve a critical and very real situation in a developing country.
The four teams of students that stood out with their project won an amount of money that they donated to a Laval-based organization of their choice. CRE de Laval is extremely grateful for being selected!
Read the press release (French-written).
Media publications (in French)
June 2, 2022 - Article in Courrier Laval: Élan de générosité des élèves de Letendre