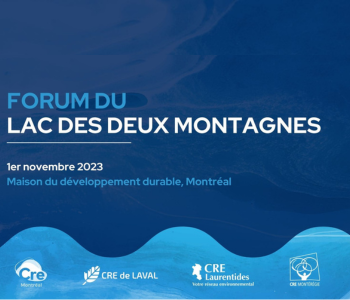 Did you know that the Deux Montagnes lake is a protected area considering its high numbers of aquatic birds? Very popular for sailing and swimming, the lake also shelters a vast ecosystem including plant communities, swamps and aquatic vegetation that birds enjoy for both nesting and feeding, while also offering beneficial conditions for fish spawning.
Other than its ecological value, the Deux Montagnes lake has a very strategic position for the drinking water supply of the Metropolitan Montreal area. We estimate that over one million people are dependent on the Deux Montagnes lake's water quality.
Climate change, pollution and several human activities on and around the lake have a direct impact on water quality, bank erosion and ecosystems' and population's health. The Conseil régional de l'environnement de Laval, the Conseil régional de l'environnement des Laurentides, the Conseil régional de l'environnement de la Montérégie and the Conseil régional de l'environnement de Montréal began a consultation and mobilization effort in order to define collectively a vision for the territory and create a commitment charter.
This project is led as part of the Climat de changement initiative conducted by the Regroupement national des conseils régionaux de l'environnement du Québec.
On November 1st at the Center for sustainable development will be held the Deux Montagnes lake Forum to define the territory's ambitions.
Stakeholders of the four riverside regions can register now to the Forum.
Click here to discover the details on the initiative.
This project was achieved with the financial support from the government of Canada.