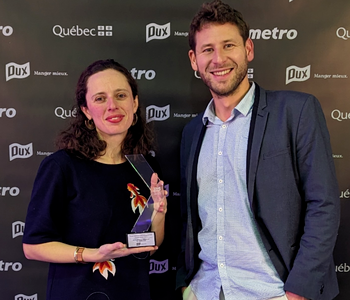 On February 22 was held the great Gala by DUX, whose mission is to recognize, promote and highlight the products and initiatives inspiring Canadians to eat better. We are proud to announce that the Opération dernière chance (''Last chance operation''), run with Arrivage, won the prize Initiatives in waste minimization!
This recognition brings forward the importance of implementing short circuits for the marketing of local products originating from agricultural surpluses or unsold items.
We seize this opportunity to also congratulate the Petits Ambassadeurs project, which got the prize of Initiative in accessibility. This is a project that CRE de Laval aims to develop in Laval and therefore goes hand in hand with the Opération dernière chance project.
We would like to thank once again the Ministère de l'Agriculture, des Pêcheries et de l'Alimentation du Québec (MAPAQ) for financing our project and allowing us to make it come true. We now hope that we can sustain it for the years to come!
Media publications (in French)
February 23, 2023 - Article in Grenier aux nouvelles: Le Gala des Grands Prix DUX dévoile ses gagnants