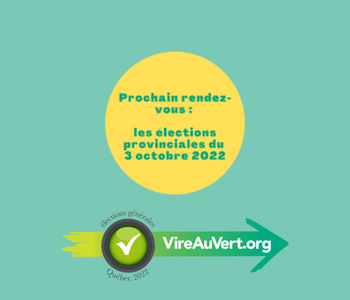 With Quebec's general elections approaching, the Conseil régional de l'environnement de Laval and the Chantier Laval ZéN, in collaboration with the Montmorency College, invited Laval's population to attend a debate on September 21, 2022, about environmental issues and solutions to the climate crisis with local candidates.
All political parties took part in the event.
More than ever, the environment, climate change and the protection of biodiversity are major concerns among the electorate. Taking action on environmental matters means acting on other fronts, such as public health, economy, social justice, quality of life, cost of living, etc.
This debate was part of the initiative of the Vire au vert debates, supported by 26 environmental organizations, including Equiterre, which took place throughout Quebec between September 18 - 25, 2022. This initiative is non-partisan, solutions-oriented, addressed to voters that wish to hear their candidates's best proposals to improve the environment, adapt Quebec to climate change and accelerate the ecological transition.
Online broadcast
The debate is now available as a Live video through CRE de Laval's Facebook page. It is also on CRE de Laval's YouTube channel.
Media publications (in French)
September 17, 2022 - Newspaper article in Courrier Laval: Des candidats discuteront environnement le 21 septembre
Press releases (in French)
September 29, 2022 - Le débat Vire au vert à Laval a mis l'environnement à l'honneur pour les élections générales
August 23, 2022 - Élections provinciales : un débat sur l'environnement et la crise climatique avec les candidat.e.s de Laval le 21 septembre