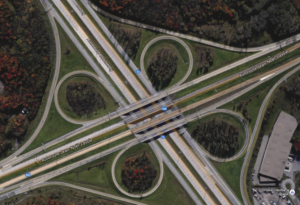 From the moment our organization was born on January 19, 1996, CRE de Laval worked to increase the sustainability of land use planning. One of our most important projects on the matter was the reforestation of road interchange in Laval.
250 000 trees planted!
We started thinking about the reforestation potential of road interchanges in the summer of 1998. We then approached the City of Laval in 2000 to present our reforestation project. Between 2002 and 2004, we handed out our plans to the municipality and in 2004, the City of Laval contacted the Ministry of Natural Resources and Wildlife to include them in the process. In 2005, the City of Laval announced the planting of 250 000 trees to reforest the road interchanges. Thomas Mulcair, who, back then, was the minister of Sustainable development, Environment and Parcs, highlighted the importance of green spaces to reduce greenhouse gas emissions. The project also involved the Ministry of Transportation, the Ministry of Natural Resources and Wildlife, the Regional conference of elected officials in Laval. Within three years, the project allowed 19 different interchanges, which include 43 highway ramps, to be reforested with native tree species.

According to Tree Canada, planting 250 000 trees absorbs 550 tons of carbon yearly. Apart from their positive environmental impacts, trees also improve our highways aesthetics.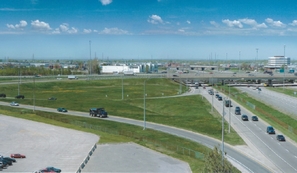 Simulation BEFORE/AFTER. Photo credit : City of Laval.
Protecting and implementing reforestation projects for sustainable land use planning
This reforestation initiative allowed to increase the tree cover on a good portion of these kinds of road junctions across the Laval territory. However, the lack of maintenance is beginning to show and many sites have been colonized by invasive species such as the European buckthorn which are displacing the native trees initially planted. Furthermore, there is an increasing amount of urban areas designated as ''heat islands'' which further justifies the needed reforestation efforts. CRE de Laval strongly encourages the City of Laval to maintain and increase reforestation efforts around different suitable road infrastructures (such as boulevards, roads, avenues, etc) and ensure adequate maintenance. Our organization also invites the Quebec government as well as other municipalities to protect and expand the tree cover through plantations and conservation throughout the metropolitan area of Montreal.
Relevant publications (in French)
2008. Guide « Le rôle des arbres dans la réduction du CO2 dans l'atmosphère » , written for Arbres Canada by Nigel T. Roulet and Bill Freedman, 12 pages.