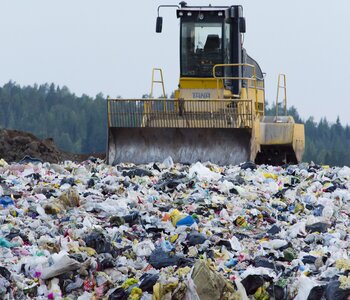 Where can I return defective products or end-of-life items?
1. Directory of accepted/refused materials for the various material collections
The research tool Ça va où? (in French) by RECYC-QUÉBEC allows you to search by material type and to find out where it has to be disposed.
2. Other drop-off points by type of material
Lightbulbs and Lamps
Corks
Ink cartridges
Appliances
Electronics (laptops and computers, digital tablets, keyboards, mouses, routers/modems, cables)
Toys
Books and magazines
Local libraries (books)

Primary schools and high schools

Senior residences (magazines)
Eyeglasses
Mattresses and bedbases
Medication (expired or not)
Drugstores (Jean Coutu, Pharmaprix, Uniprix, Familiprix, Proxim, etc.)
Furniture
Paints, varnishes, dyes, aerosols and paint containers
Cells and batteries
Drop-off point at Pavillon du Boisé Papineau (managed by CRE de Laval)
Plastic #6 (expanded polystyrene, styrofoam)
Ecocentre (Lasalle & St. Laurent) (in French)
Cell phones
ARPE drop-off point at Pavillon du Boisé Papineau (managed by CRE de Laval) - see the list of accepted items

Drop-off points in many shops where cell phones are being sold
Textiles (clothes that cannot be worn anymore/punctured/stained)
Textil'art (Laval-based business for social reintegration - they produce crafted rags) (in French)
Bikes
Clothes
Cars (used engine oil, antifreeze tanks, filters, empty oil containers, aerosol containers)
Local garage

To find the closest drop-off points : SOGHU

Ecocentre

ARPAC (Association of Auto Parts Recyclers)
3. Hazardous Household Waste
Twice a year, in May and September, the City of Laval organizes a collection of hazardous household waste for citizens only, in order to avoid that dangerous products such as leftover paint, old medicine, batteries, electronic products, etc., end up in landfills. Check out the City of Laval's website to find out more about these collections (in French).
4. Building Materials
Dry materials (construction or renovation debris, lold appliances tree stumps and trunks, etc., are recoverable. You may get rid of them in a safe and fitting way by using receiving areas of dry materials offered by the City of Laval.
We invite you to browse through the City of Laval's website in order to find out more about the list of accepted and refused materials and on how to dispose of them.