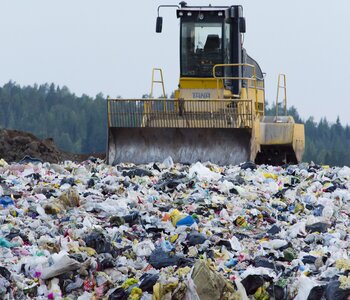 In order to reduce the amount of materials going to landfills and fight against the degradation of biophysical environments, CRE de Laval invites you to sell or donate your bulky waste or objects that you no longer use, so as to promote the re-use of products.
Where can I return defective products or end-of-life items?
1. Directory of accepted/refused materials for the various material collections
The research tool Ça va où? (in French) by RECYC-QUÉBEC allows you to search by material type and to find out where it has to be disposed.
2. Other drop-off points by type of material
Appliances - Small and large
Small appliances
The City of Laval offers a mobile ecocentre service that allows Laval citizens to dispose, in a responsible way and free of charge, of their small end-of-life appliances. Keep an eye on the calendar for the upcoming stops of the mobile ecocentre as well as the list of materials accepted by visiting the City of Laval's website.
Please note that Laval's first permanent ecocentre will soon be opening. It should start operating during the spring of 2022. The ecocentre will be located at the intersection of Dagenais Ouest and Bellerose boulevards.
Large appliances
For large, non-functional appliances (stoves, washers, dryers and others), it is possible to dispose of them during the bulky waste collection offered by the City of Laval. This collection happens once a month for residential units of 7 units and less - for housing buildings of 8 units and more, tenants can dispose of their large appliances during the garbage collection that takes place once a week.
For the dates of the next bulky waste collections, visit the City of Laval's website.
Bikes
Cyclo Nord-Sud's mission is to recycle and reset unused bicycles for the benefit of vulnerable communities through different local and international solidarity initiatives.
SOS VÉLO is a social insertion and professional enterprise in search of used bikes for its production of bicycles made of both new and recycled parts.
Books and magazines
Cars (used engine oil, antifreeze tanks, filters, empty oil containers, aerosol containers)
The Société de gestion des huiles usagées (SOGHU) manages a recuperation and recycling program for used oils and antifreese of 50 litres and less, as well as used filters. To find the closest drop-off point, click here.
It is also possible to dispose of used motor oil during the stops of the mobile ecocentre, offered by the City of Laval.
Cells and batteries
Electronics and hardware stores mentioned above have cell and battery collection programs.
Appel à recycler is Canada's largest cell & battery recycler. To find the nearest drop-off point, click here.
Clothes
Corks
Recork is North America's largest cork recycling program, with over 128 millions of corks recycled since 2008.
To find the nearest drop-off point, click here.
Electronic devices (laptops and computers, digital tablets, keyboards, mouses, routers/modems, cables, cell phones)
Faulty electronic equipment or end-of-life devices can be brought to EPRA-Quebec's official drop-off point located in CRE de Laval's office ( # 208), at the following address: 3235, boulevard St. Martin Est, Laval.
For the list of accepted electronic items, click here.
Eyeglasses
You may recycle your eyeglasses by donating them to one of the organizations above; they will be redistributed to individuals that do not have access to basic eye health care services.
Furniture
Ink cartridges
The Mira Foundation has been offering for a few years now a recovery service of ink cartridges with the support of several partners in order to finance its dog training program for people suffering from visual impairments.
To find the nearest drop-off point, click here.
Some large chain stores offer an ink cartridge recycling service. However, it is preferable to contact your nearest branch to confirm before going.
Lightbulbs and Lamps
Managed by the Association pour la Gestion Responsable des Produits (AGRP), the non-profit program RecycFluo aims to responsibly recycle lightbulbs and fluorescent tubes containing mercury.
To find the nearest drop-off point, click here.
Several hardware stores, including the ones cited above, act as a drop-off point for the recycling of lightbulbs and fluorescent items.
Mattresses and bedbases
Mattresses and bedbases can be disposed of during the City of Laval's bulky waste collection. Please note that mattresses and bedbases are not accepted during the mobile ecocentre's stops, but they may be dropped at the new ecocentre, which will start operating in 2022. For the dates of the upcoming bulky waste collections, click here.
Medication (expired or not)
Bring all your expired medication (over the counter and prescribed) and natural health products to your pharmacist - he/she will dispose of them responsibly. It is essential to avoid throwing medication away in the toilet or in the sink.
Paints, varnishes, dyes, aerosols and paint containers
To find the nearest drop-off point and the kinds of paints that are accepted, click here.
Through its mobile ecocentre, the City of Laval collects paint, dye and varnish.
Refrigeration equipment
The non-profit organization Gorecycle manages collection and recycling activities for appliances that contain halocarbons (CFCs, HCFCs, HFCs) such as friges, coolers, cellars, air conditioners, dehumidifiers, and more. There are several drop-off points in Laval - click here to discover them.
The City of Laval also offers a free collection service for refrigeration equipment. To schedule a collection, simply call 311 or make a request online.
Textiles (clothes that cannot be worn anymore)
Textil'Art is a reference for the recovery of textile materials and the socio-professional integration of people distant from the labour market.
Toys
3. Hazardous Household Waste
Twice a year, in May and September, the City of Laval organizes a collection of hazardous household waste for citizens only, in order to avoid that dangerous products such as leftover paint, old medicine, batteries, electronic products, etc., end up in landfills. Check out the City of Laval's website to find out more about these collections (in French).
4. Building Materials
Dry materials (construction or renovation debris, lold appliances tree stumps and trunks, etc., are recoverable. You may get rid of them in a safe and fitting way by using receiving areas of dry materials offered by the City of Laval.
We invite you to browse through the City of Laval's website in order to find out more about the list of accepted and refused materials and on how to dispose of them.