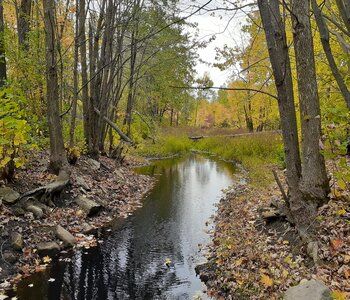 Following the City of Laval's adoption of three directing plans related to the framework for the implementation of a green and blue track, CRE de Laval considers that all existing natural environments - not only those ''of interest - must be granted a special conservation status.
Since the provincial government has already reached its goal to protect 17% of the territory, it is quite surprising that the City of Laval limits itself to the low target of 14%, especially considering that the protection potential of natural environments is between 17 and 20% of Laval's territory.
It is time for the City of Laval to position itself as a conservation leader in the south of Quebec and to offer to its citizens the opportunity to discover, today and tomorrow, the rich biodiversity of its territory.
Picture above : the area of Barbe stream, not considered as a natural environment ''of interest'' in the directing plans of the City.
Publications (in French)
February 18, 2021 – Press release : Oser protéger 17% du territoire lavallois
February 24, 2021 - Article in Courrier Laval : Aires protégées : le CRE exige davantage