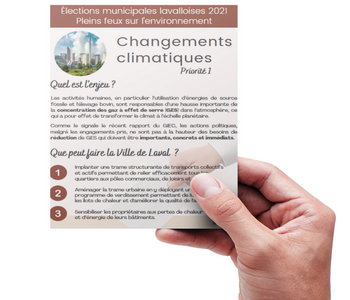 As municipal elections draw nearer, Conseil régional de l'environnement de Laval has designed five leaflets (French-written) summarizing Laval's environmental priorities, in order to invite mayoral candidates to take inspiration from them while also informing electors regarding the powers entrusted to municipalities to truly act on the key sectors identified.
Municipalities have more resources that we may think in order to tackle efficiently environmental issues on their territory and beyond. The five leaflets, dedicated to climate change, residual materials management, water management, agirculture and natural habitats present the nature of each issue, applied to Laval's reality, and indicate with precision what can be done by the City of Laval to respond to the same challenges.
Therefore, based on these leaflets, electors have the opportunity to formulate concrete requests to mayoral candidates to ensure that the protection of the environment will be prioritized in Laval - before, during and after the elections. The leaflets also provide candidates with useful content to enhance their election campaign platforms!