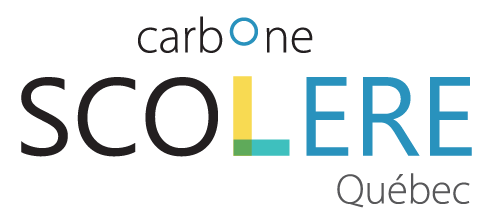 CRE de Laval is one the training organizations accredited by COOP FA, which is at the origin of Carbone Scol'ERE, a carbon exchange program. Our agents visit Laval's primary classes of grade 4, 5 and 6 to provide climate change and carbon management workshops.
There are five workshops per participating class. During these, students are made aware of the greenhouse effect and climate change, as well as the impact of transport and the making of everyday items, the use of energy ; lastly, they are invited to raise awareness in their immediate environment (friends and family).
With this commitment, CRE de Laval sure hopes that these cohorts of future decision makers will put their knowledge to good use - that is, the responsible development of our societies.
Agreement with caisses Desjardins
An agreement recently concluded with Caisses Desjardins of Laval allows us to deploy the Carbone Scol'ERE project in 10 additional classes for the winter of 2021! The total number of participating classes is therefore 15 - meaning that about 400 students of Laval get the opportunity to benefit from the workshops thanks to our awareness-raising agents.
The financial commitment of Caisses Desjardins adds to Ville de Laval's financial support for this innovating project in environmental education. If you wish to participate and help expand the scope of this initiative, you can buy educational carbon credits that will be generated through the involvement and actions of our school kids.
About the program...
The Carbone Scol'ERE carbon exchange program is the very first alternative of greenhouse gases emissions offsetting recognized by an advisory committee led by the CRIQ (Centre de recherche industrielle du Québec). The program aims to encourage genuine, measurable, verifiable and cumulative behaviour changes. It offers two options :
Reduce greenhouse gas emissions by challenging students and their families following a 10-hours training session made of workshops (''I pledge myself'' component) ;

Compensate greenhouse gas emissions through the purchase of educative carbon credits produced by avoided emissions in the I pledge myself component. This is a unique, quantified and scientifically verified compensation unit (''I compensate'' component).