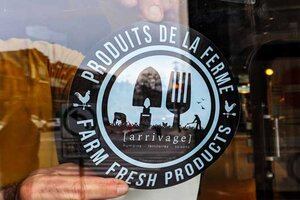 During fruit and vegetable production, producers have to follow strict requirements form distributors and consumers in terms of product calibration or visual appearance. Furthermore, most produce going through several intermediates, this does not enable the disposal of produce that is too ripe (fragile) or non-competitive (imports and international market fluctuations).
In the absence of direct and alternative outlets, producers may face significant unsold inventories and must often give up the marketing of some edible produce. The historic model of the food system is a source of tremendous food waste, resulting in a loss of earning for exploitation.
By bringing producers directly on a proximity market without intermediates, the offer as a whole can be used up thanks to different trades that have the ability to promote produce, in particular if it results in financial savings (restaurants, processors, etc.).
By focusing on local food systems, we will also be able to reduce food losses and food waste during the conditioning procedure and transport that are amplified when we multiply intermediates and that represent to this day, respectively, 20% and 5% of food losses and food waste.
The local food system project, managed by CRE de Laval in partnership with Arrivage, is based on a rather simple model. It aims to create a bridge between an existing offer (harvested unsold produce) and an increasing demand for local produce. We therefore put back value to a market that is missing links and we optimize production by generating additional revenue for producers. This solution is economically appealing for buyers, who will enjoy quality products at a low price while also promoting both the local origin and the producer.
Interested by the project? Contact Elodie Morandini or Francis Bertrand!
This project was financed by the Ministry of Agriculture, Fisheries and Food, as part of the Programme de développement des marchés bioalimentaires.